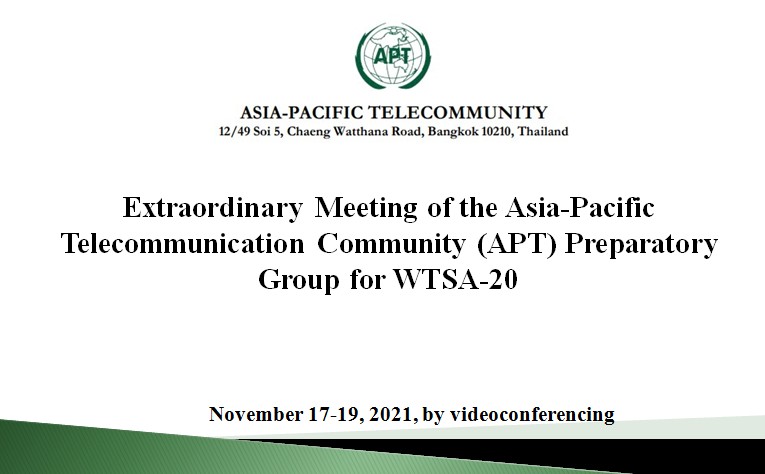 19.11.2021
November 17-19, 2021, via videoconference
The Extraordinary Meeting of the Asia-Pacific Telecommunity (APT) Preparatory Group for WTSA-20 was held from 17 to 19 November. The videoconference format was used for it.
The event was attended by over 160 delegates from APT member countries and observers, including representatives of regional organizations, in particular CITEL. The meeting was attended by the RCC delegation, including representatives of the Communications Administrations: the Republic of Azerbaijan, the Republic of Belarus, the Kyrgyz Republic, the Russian Federation, as well as employees of the RCC Executive Committee.
The meeting was opened by the APT Secretary-General Masanori Kondo, who noted that this is the last meeting of the organization before the World Telecommunication Standardization Assembly. The meeting was welcomed by Chae Sub Lee, Director of the ITU Bureau of Standardization and Yoichi Maeda, Chair of the APT Preparatory Group for WTSA-20.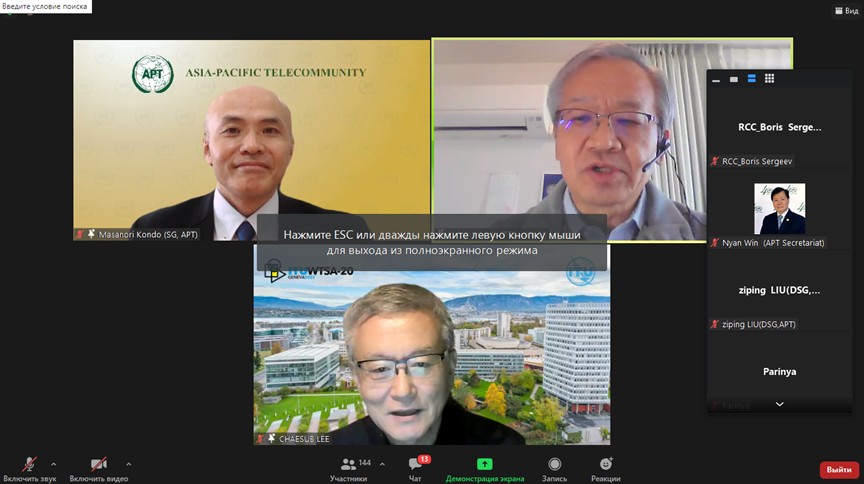 Chae Sub Lee, Director of the ITU Telecommunication Standardization Bureau, gave an overview of the preparations for the World Telecommunication Standardization Assembly -20. He recalled that delegations can submit contributions to the work of the Assembly until January 31, 2022. Any proposals for this event will close on 7 February 2022. Nominations for 2021-2024 for the posts of Chairs and Vice-Chairs of Study Groups, the Telecommunication Standardization Advisory Group and the Committee for the Development of a Standardization Dictionary will be accepted until 30 November 2021 (14 February 2022 ends accepting any proposals for candidates).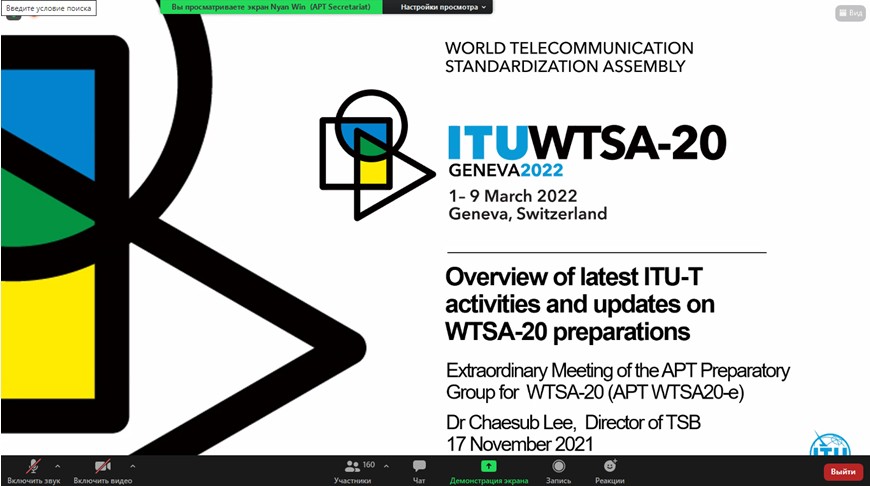 At the opening plenary session of the Preparatory Group, the floor was also given to representatives of regional organizations. E.V Tonkikh, Head of the RCC Delegation, presented the proposals put forward on behalf of the Commonwealth at WTSA-20.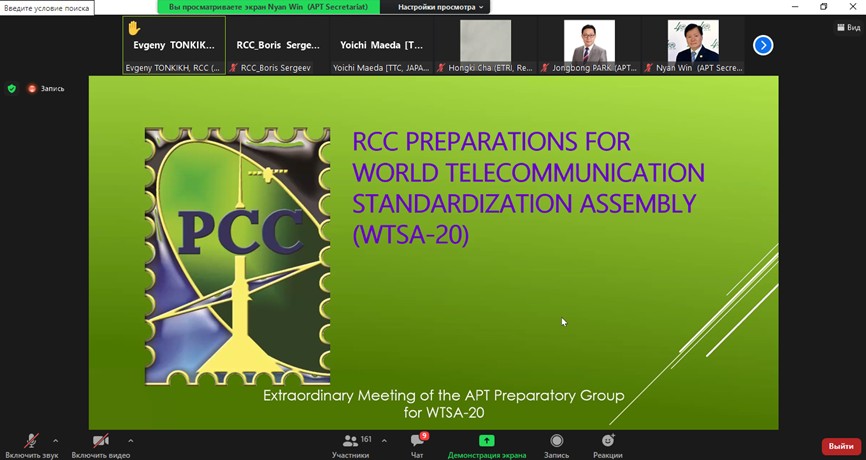 On November 18, 2021, work continued in the framework of working groups.
At the closing plenary session, chaired by Yoichi Maeda, the leaders of the working groups presented the results of the discussions within these structures.
Proposals to amend the resolutions submitted to WTSA-20 by APT and other regional organizations were discussed. The meeting identified APT representatives responsible for working on each resolution proposed for discussion at WTSA-20. Also, representatives of APT, responsible for consideration of proposals of regional organizations on resolutions, on which APT did not express its position, were agreed. The distribution of APT representatives is contained in document OUT-06.
Proposals from APT for the leading positions of WTSA-20 were agreed: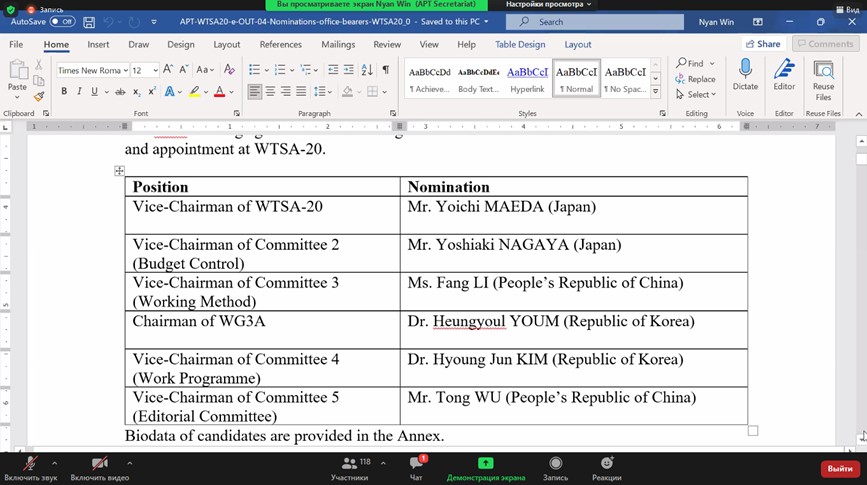 The procedure for the work of the APT delegation at WTSA-20 was also determined (document OUT-05).
Meeting documents are available at: https://www.apt.int/2021-WTSA20-e
Username: wtsae
Password: wtsae @ 2021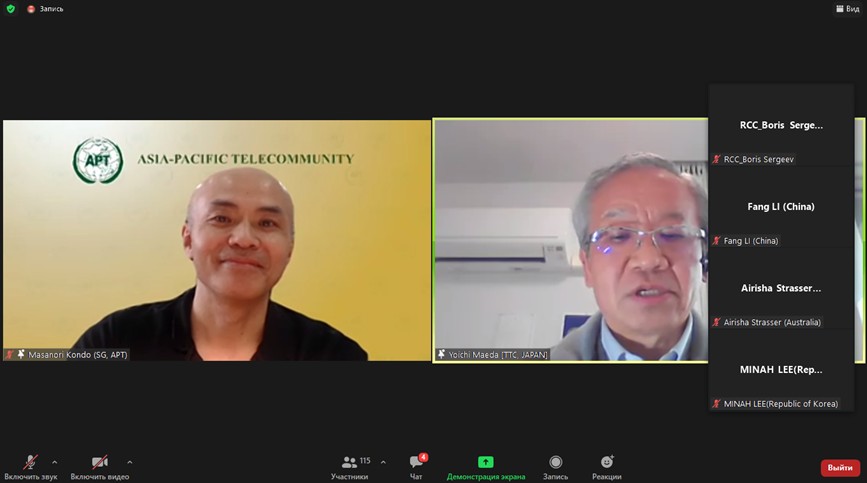 The results of the meeting were summed up by the Secretary-General of APT Masanori Kondo, who noted that the organization had prepared 29 proposals for WTSA-20 and thanked the chairman and participants for their work.